I am sure party activists might take exception to our former Governor's assessment but it is a point of view shared by the likes of Allan Hoffenblum and others who lived through the Party of Reagan and know that today's California Republican Party (CRP) bares little resemblance. I suspect that many who sign the Grover Norquist Tax Pledge, as at least two of my opponents have done, do not know or care to admit that the Gipper raised taxes some eleven times as an elected official. To borrow from a famous Kermit the Frog phrase, "It's not Easy Being Green" for any of my opponents either--as indicated when at their own "Members Only" forum a few weeks ago had this to say:

"This whole environmental issue, it's almost like a religion. It's crazy. Ridiculous."

As one who loves the outdoors and believes in conservation, open space and things like clean air and soil, I am proud to be endorsed by both the California League of Conservation Voters and the Sierra Club. Below are a few excerpts from Schwarzenegger's op-ed in the Times that struck a chord: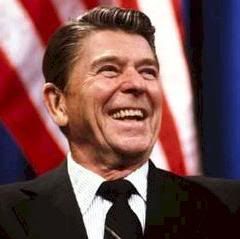 "In the current climate, the extreme right wing of the party is targeting anyone who doesn't meet its strict criteria. Its new and narrow litmus test for party membership doesn't allow compromise. ...
It's time for the Republicans who are so bent on enforcing conformity to ask themselves a question: What would
Ronald Reagan
have done? He worked hard to maintain a welcoming, open and diverse Republican Party. ... We need to remind the Republicans who want to enforce ideological purity that if they succeed, they will undo Reagan's work to create an inclusive party that could fit many different views. ... To succeed, Republicans need to embrace true Reaganism, and that means embracing the true Reagan, a brave and independent leader who believed in solutions and compromise. ... As governor, Reagan was never afraid to buck his party. He raised taxes when he saw no other way to get California out of the red, and he created the California
Environmental Protection Agency
...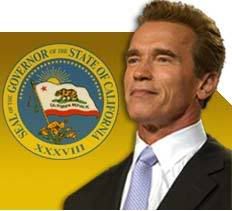 "Some Republicans today aren't even willing to have conversations about protecting the environment, investing in the infrastructure America needs or improving healthcare. ... Being a Republican used to mean finding solutions for the American people that worked for everyone. It used to mean having big ideas that moved the country forward. It can mean that again, but big ideas don't often come from small tents. It's time to stop thinking of the Republican Party as an exclusive club where your ideological card is checked at the door. ..."
Source: Schwarzenegger, Arnold. "
Schwarzenegger: GOP, take down that small tent," Los Angeles Times. 5/6/12.
UPDATE

It is clear that not everyone from the chattering class agrees with the governor but it is hard to deny that governing parties need to be more broad-based and inclusive.
"Schwarzenegger cannot revive his legacy by blaming the party to which he belonged — a party that remains a minority and keeps getting smaller thanks in part to his continued destruction of the brand. Yes, the California GOP needs to change. It needs to embrace a more libertarian agenda that advances less government in all areas of life. It needs to connect more with the culture of this state. The party did itself no service in backing the corporate-welfare whores who tried to save redevelopment. But the California GOP should not look to this crowd as it seeks to rebuild itself in a way that will save not only the party but this state."
Source: Greenhut, Steve. "Schwarzenegger's Bizarre Analysis," Cal Watchdog. 5/8/12.